Christmas is just around the corner.
Are you still looking for that perfect gift for someone in your life who is eco conscious? Someone who gravitates toward eco-friendly products, talks about sustainability and enjoys nature?
You may be wondering, what makes a product eco-friendly?
"Eco-friendly products" commonly refers to products that help conserve resources or are made using sustainable resources and ingredients that contribute to green living. Eco-friendly products also prevent contributions to air, water and land pollution and do not harm the environment, whether in their production, use or disposal. 
Reusable products that replace single-use items are also great for the environment.
With that in mind, when researching and shopping for eco-friendly products, look for products that use:
sustainable, plant-based or natural ingredients
upcycled materials
packaging that is compostable and/or recyclable
For more info on "What Does Eco-Friendly Mean", check out our blog.
Below are some eco-friendly gift ideas as well as gift ideas that nature lovers will enjoy:
1. Poinsettia or Live Plant
What is more eco-friendly than a live plant during the holiday season, converting carbon dioxide to oxygen and cleaning the air?
2. Make an Eco-Friendly Gift
Show you truly care with a homemade gift such as jam, pickles, Christmas cookies, snacks, the options are endless! Who doesn't love getting an edible gift?!
Check out this blog from Botanical Paperworks for more homemade eco-friendly gift ideas such as fire starters, bath bombs and more.
3. Ceramic Bee Drinking Cups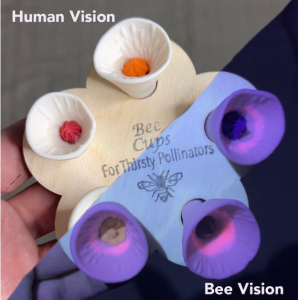 Bees need water. Provide hydration for thirsty bees with handmade porcelain cups for your garden that collect a teaspoon of water for thirsty pollinators. 
According to Bee Cups, "bees cannot see all the colors that humans see. Bees have the ability to see yellow, green, blue, and ultraviolet, but they cannot see red or orange. Bees are highly attracted by the water, but they also love colors in their vision range."
"Bee-Vision Bee Cups have an Ultra-Violet-Reactive ceramic glaze that is clear to humans but glows bright pink to pollinators. This means that Bee Vision Bee Cups look more like flowers to bees and butterflies, and may attract them even when the cups are dry."
It looks like it is too late to place order this year for guaranteed Christmas delivery, but perhaps next year?
Learn more here. 
4. Give the Gift of Your Time
Is the person you are giving this gift to always busy and strapped for time? Or do they face physical challenges and limitations? Why not gift them with a coupon for a few hours of house cleaning per month? Or if they live close by, offer to clear their sidewalks and driveway from snow this winter or cut their grass and clean up their yard come spring?
Do they absolutely LOVE your cooking? Gift them a coupon for a special meal, their choice.
Do they have a dog and they lack time to take them for regular walks? Gift them with some coupons for free dog walking services.
Do they HATE taking down their Christmas tree or exterior lights after the holidays? Offer to do this for them as a gift. They may not accept the help if you offer it, but if you provide it as a gift, they may feel compelled to accept your offer.
5. Make it a Regifting Christmas!
Make it a 'regifting' Christmas and have everyone only gift items that they don't use, purchased from a garage sale or made themselves. This will be fun for everyone, will be inexpensive and will allow everyone to flex their creative muscles.
6. Insect House
"An insect house, sometimes referred to as an insect hotel, is an artificial nesting structure that provides shelter for beneficial insects like gentle solitary pollinators and predatory insects. The houses can be made up of several different types of materials and chambers like hollow bamboo tubes, pre-drilled wood blocks and shutter chambers or screen chambers that can be filled with pinecones, bark, twigs or dead leaves."
"There are many benefits of installing an insect house in your garden and landscape. Becoming an insect house owner can be both a fun and rewarding experience as you take pride in helping support the pollinator population while improving the health and performance of your plants at the same time! Learn how to be a responsible host and get the most out of your insect house with these use and care tips." (Source: Nature's Way)
 Image compliments of Natures Way.
7. Funny Produce Bag
"Make grocery shopping waste-free with reusable cotton produce bags. A set of three different sizes allows you to fit a variety of fruits and veggies, while the printed bag tare guarantees correct weight." (Yes Wellness)
Learn more here.
Image compliments of Yes Wellness.
8. Solar-Powered Phone Charger
9. Xtreme Eco Multi Purpose Sprayer
Reduce plastics, eliminate toxic cleaners and reduce your carbon footprint with this multi purpose sprayer and 4 powerful eco-friendly cleaning concentrates.
Imagine only having to carry one sprayer and four small cartridges to clean your entire home, recreational vehicle, cottage, apartment or boat?
This is another product that will need to be a 2023 gift idea as they are still in production. 
Learn more here.
10. Stainless Steel Straws
Stainless steel reusable straws are good for hot and cold beverages. Reusable products that replace single-use items are great for the environment.
11. Stainless Steel Water Bottle
Stainless steel water bottles can keep your water cold for up to 24 hrs and avoids the need to use single-use plastic water bottles.
Also, where possible, try to shop local. Shopping local helps reduce your carbon footprint by reducing transportation costs. Check out a local farmer's market or local craft fair.
Plus be sure not to use wrapping paper. Instead use a reusable gift bag or check out Wrappr for an alternative wrapping idea.
"Gorgeous, sustainable and affordable, Wrappr is the simple, earth-loving alternative to disposable paper gift wrapping. Honouring Furoshiki, the 1,200-year-old Japanese tradition of fabric wrapping, each Wrappr is a gift in itself, designed to be repurposed or re-used and perfect for any season or celebration. Created by independent artists who love our planet as much as you do, every eco-friendly Wrappr reduces our carbon footprint, supports our creative community and makes the world a better, more beautiful place."
Learn more about Wrappr here.
We hope one of these ideas helps inspire you!
Wishing you and your loved ones a Happy Holiday Season!
Sources:
Botanical Paperworks, Eco-friendly Homemade Holiday Gifts
Nature's Way, How to use an insect house
Good Housekeeping, 25 Best Eco-Friendly Gifts for Giving Sustainably This Year
My Green Closet, Sustainable Gifts - Our Top 25 Picks for 2022
Earth Smart Solutions, Out of the Box Christmas Gift Ideas
Earth Smart Solutions, What Does Eco-Friendly Mean
---
Categories